December 2021:
 'A Room With All Our Things', a group art exhibition of works by Toju Clarke, Abisola Gbadamosi, Tolulope Daramola, Paul Ayihawu and Samuel Vittu. The exhibition opened on Sunday, 12, December, showed till 26, 2021, at The Art Pantheon Gallery, 12D Bosun Adekoya Street, Oniru, Lagos.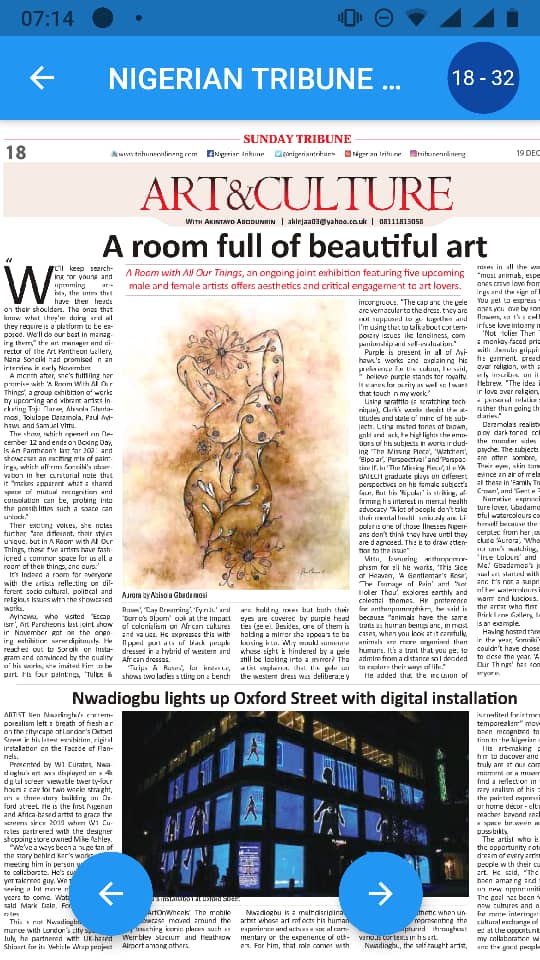 Our media partners for the exhibition were The Nation, ThisDay, Vanguard The Luxury Reporter, Tribune and A-ARTs.
November 2021. On November 5, The Content: 2nd Harmattan Edition, a group art exhibition opened and showed till December 12 at Adam&Eve, GRA, Ikeja.
Our media partners for the exhibition include: Vanguard, ThisDay, The Guardian, The Nation, A-ARTs and The Luxury Reporter.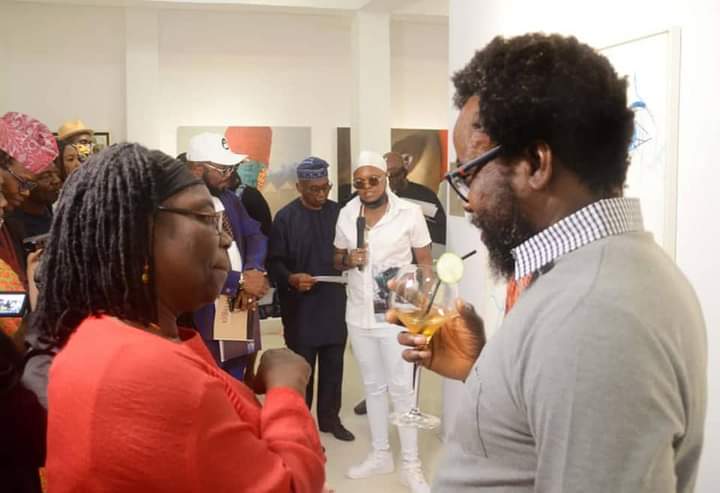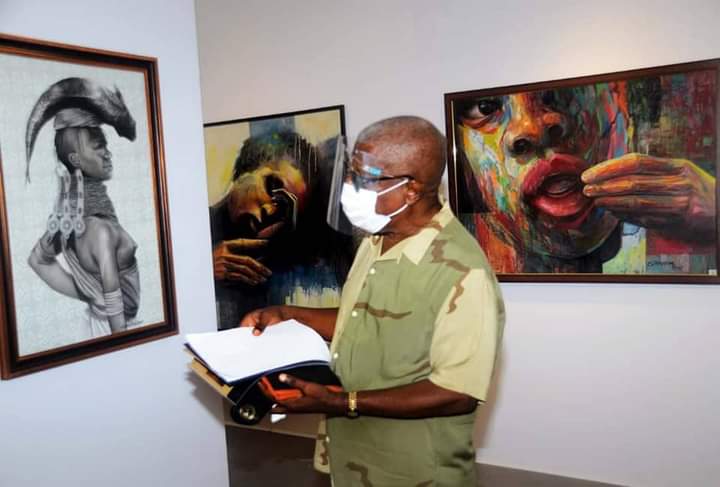 October 2021. Olayemi Fagbohungbe's debut solo, 'Blaque.'
When The Art Pantheon, Lekki, Lagos showed Olayemi Fagbohungbe's debut solo, 'Blaque,' from October 10-17, 2021, it was a celebration of new contemporary textures in moulded metal art.
BUSSINESSDAY, The Guardian, Vanguard, Sun, TRIBUNE and African Arts with Taj gave media supports to 'Blaque'.
October 2021. Translucent S.I. congratulates Signature Beyond Gallery and artist, Segun Akano on the successful exhibition of '9Gems'.
We thank our media partners:
-Vanguard.
-Sun.
-The Nation.
-Tribune
-Channels TV.
-African Arts with Taj.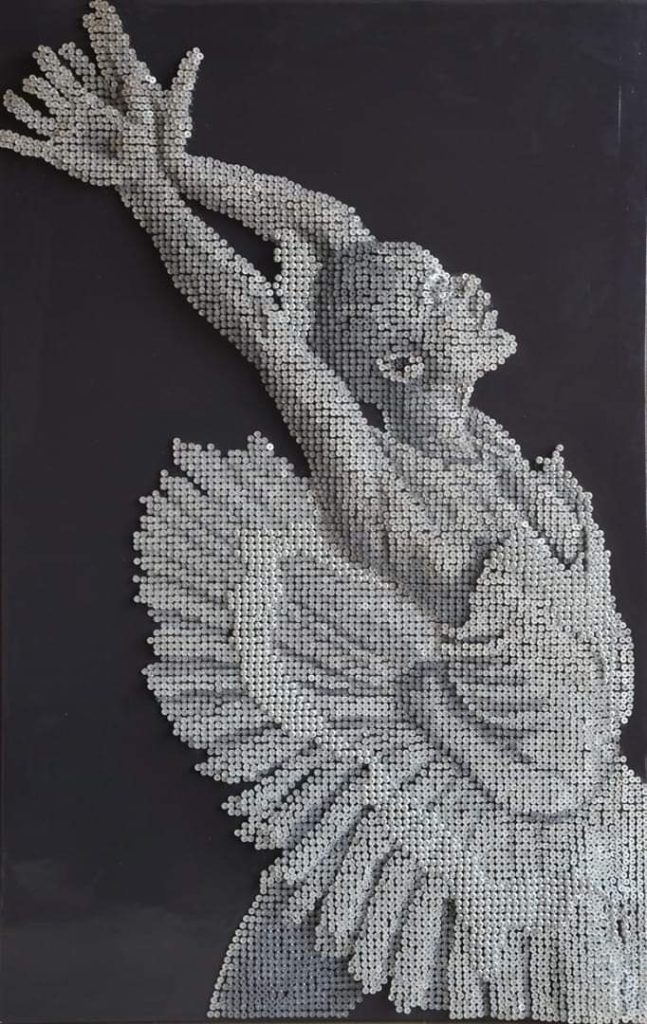 Visual arts appreciation soars as Art Pantheon debuts with Adeyinka Akingbade's State of Mind 
June 2021. Lagos art lovers had appreciation taste of U.S-returnee, Ugo Agoruah in his solo art.exhibition 'Finding Forever', shown at Nimbus Gallery, Ikoyi and Iwalewa Gallery, Lekki, Lagos.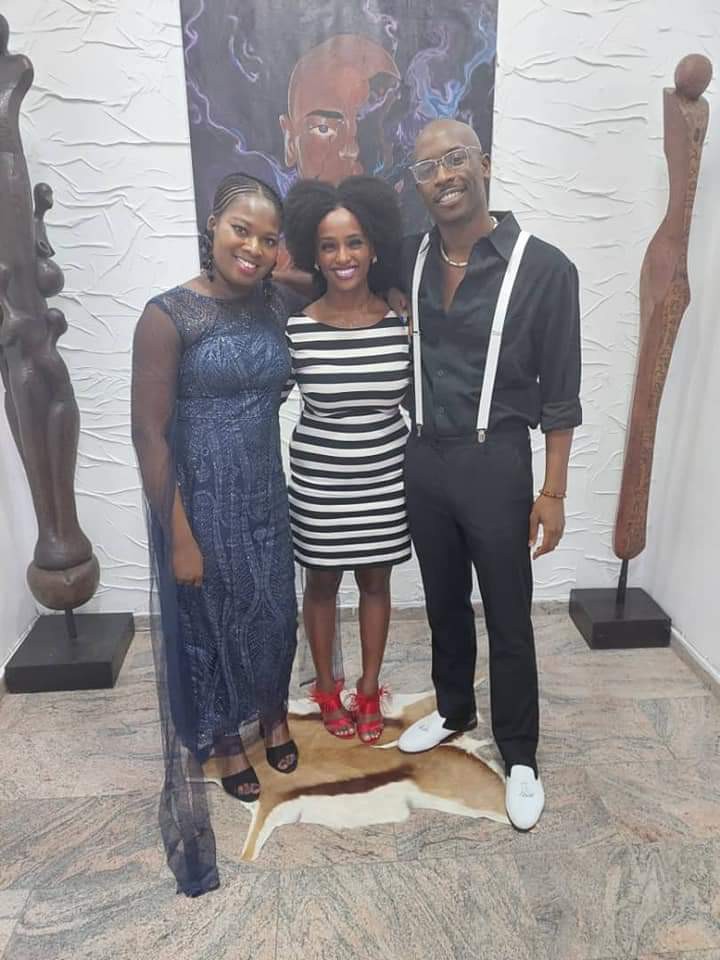 How Agoruah's art of Finding Forever beamed hope into the future
Agoruah debuts in solo with Finding Forever at Nimbus 
From abroad, fresh strokes of Agoruah's Finding Foreever texturises Lagos art 
 VIDEO: How Ugo Agoruah made his debut solo Finding Foreever in Lagos.
May, 2021. Signature Beyond Gallery pulled a double with two solo art exhibitions in one space and the same showing duration.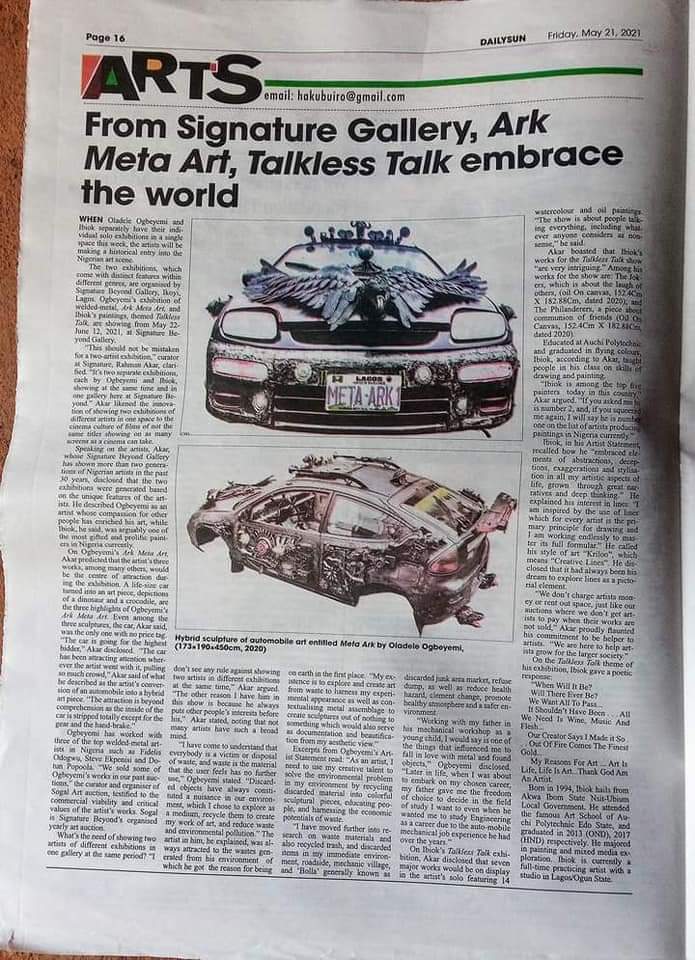 Discarded metal art works adorn Signature      
Signature Innovates with  ark metal art
WhySignature Beyond Gallery shows metal art of Ogbeyemi, Ibiok's paintings
From Signature Gallery, Ark Meta Art, Talkless Talk embrace the world
New milestone in automobile art at Signature Gallery
April 2021. Thought Pyramid Art Centre's Transcendence art exhibitio of two artists.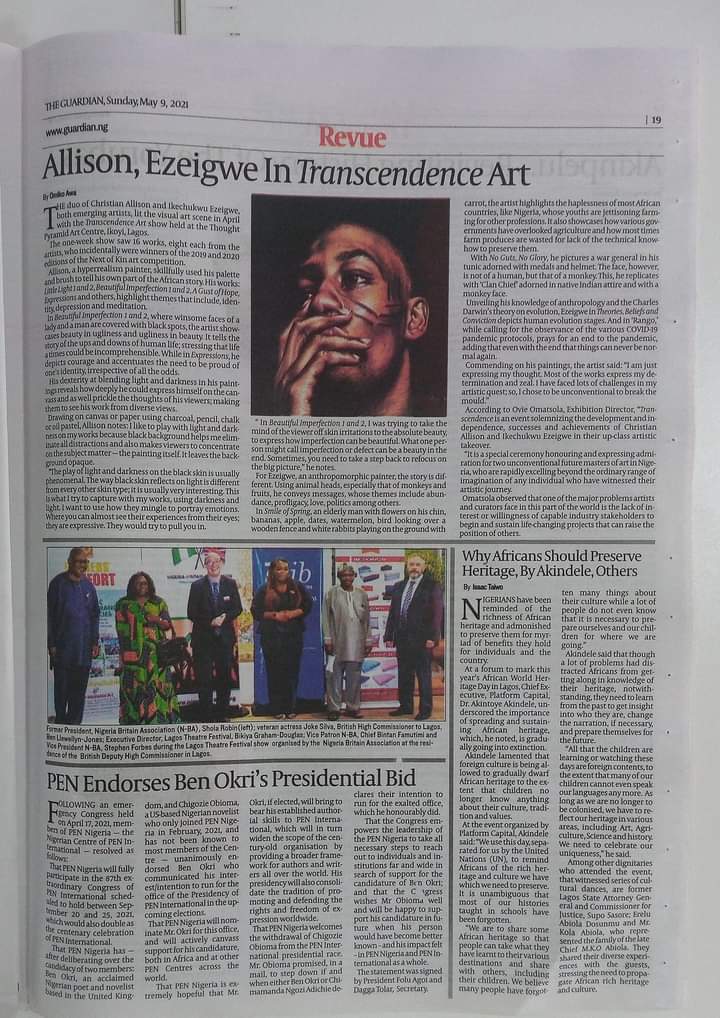 ---
Thought Pyramid Unleashes Duo Show Transcendence
Ikechukw, Aallison transcending with transcendence
Transcendence: Taking Outstanding Talents Higher
 Allison, Ezeigwe In Transcendence Art
https://www.africanartswithtaj.com/2021/04/ Art of Ezeigwe Allison In Transcendence
April 2021: A two-artist exhibition of Dr Sukanthy Egharevba and CDr lem Akpang titled Creolization in Calabar, Cros Rivers State.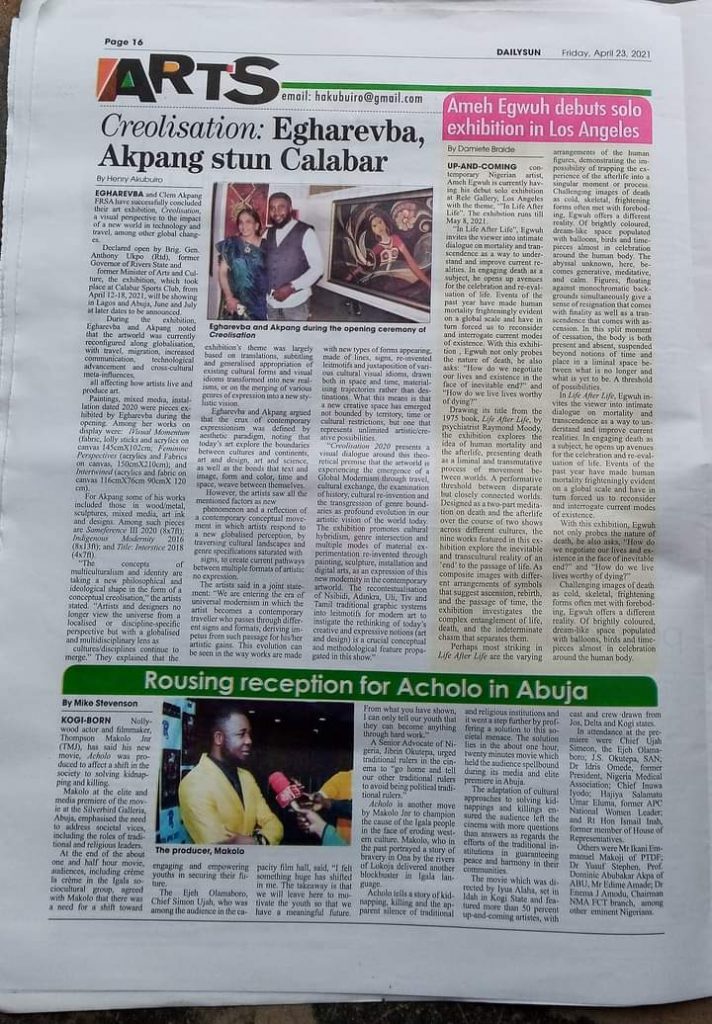 Creolization art exhibition in Calabar
 The Creolization art tour of Egharevba, Akpang
Creolisation- Egharevba. Akpan stun Calabar
When Egharevba, Akpang Celebrated Creolisation
UAE-based Nigerian author, Ifeanyi Amadi's books titled The Chemical Poems of Ayatollah Khameni and Tourist Un Wahala  Land were launched in Lagos. Translucent S.I. managed the effective media contents if the publicity.  
Hunger for revolutionary change inspired-my writings amadi
'I wasted 10 years to publish my books in U.S'
https://guardian.ng/art/With Tourist In Wahala Land Amad Iinterrogates Corruption
Amad's poetic journey through shadow of 'Ayatollah Khameni'
Jan-Feb, 2021. Lumin-Artica's current project, Oranyan Heritage Foundation's Black Women In History Museum has been attracting media attention based on media contents management skills of Translucent S.I.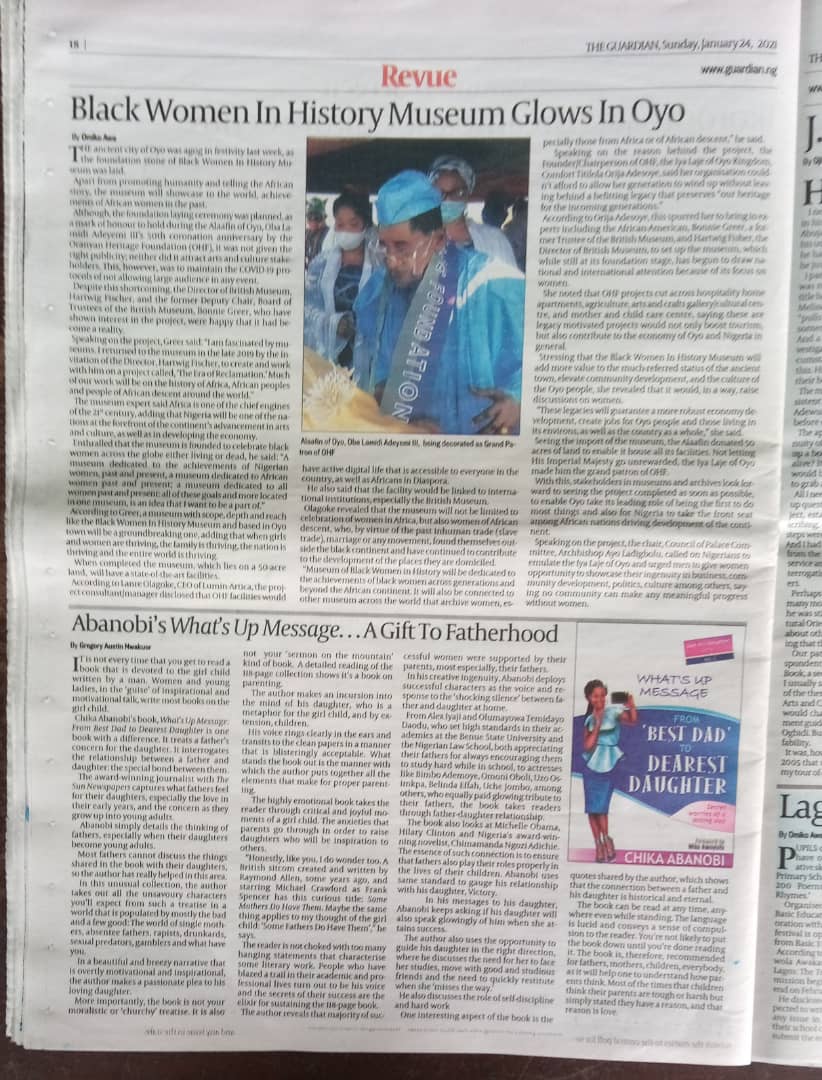 Black Women In History Museum glows in Oyo
Oyo Monarch Kicks off Oranyan Heritage Foundation, Museum at 50th Golden Jubilee Anniversary
Alaafin to flag off foundation, museum at 50th coronation anniversary
Alaafin Flags Off Oranyan Heritage Foundation, museum
50th Anniversary: Alaafin To Lay Foundation For Museum of Black Women In History 2 months ago
Nov-Dec 2020.  Print media publicities for 2020 gathering of welded metal artists group exhibition titled Ajorin;Dancemetalphor and organised by Thought Pyramid Art Centre, Lagos.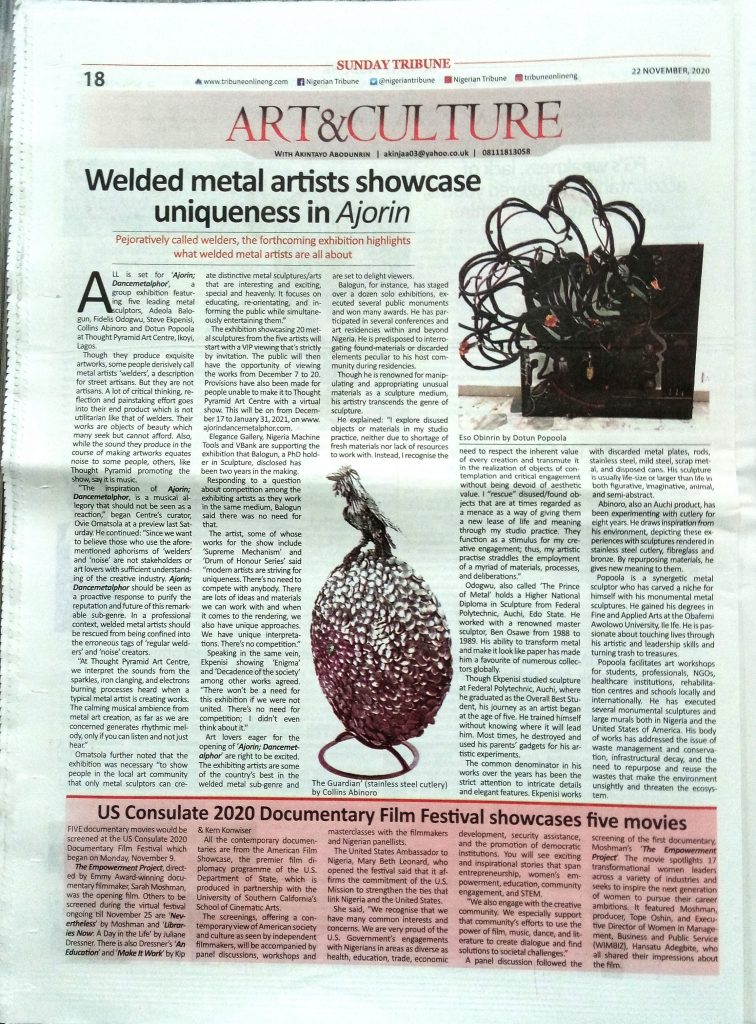 Ajorin; Dncemetalphor Deepens Metal Art Knowledge
Five Artists Make-History In Ajorin;dancemetalphor
Welded Metal Artists Showcase Uniqueness In Ajorin
From ajorin artists, fresh metal lifts contemporary art
Leading Nigerian sculptors make metallic statement with Ajorin
2. As Translucent S.I provides critical contents for art, our director, Mr Tajudeen Sowole wrote the review for exhibition catalogue of Ajorin; Dancemetalphor. CATALOGUE FULL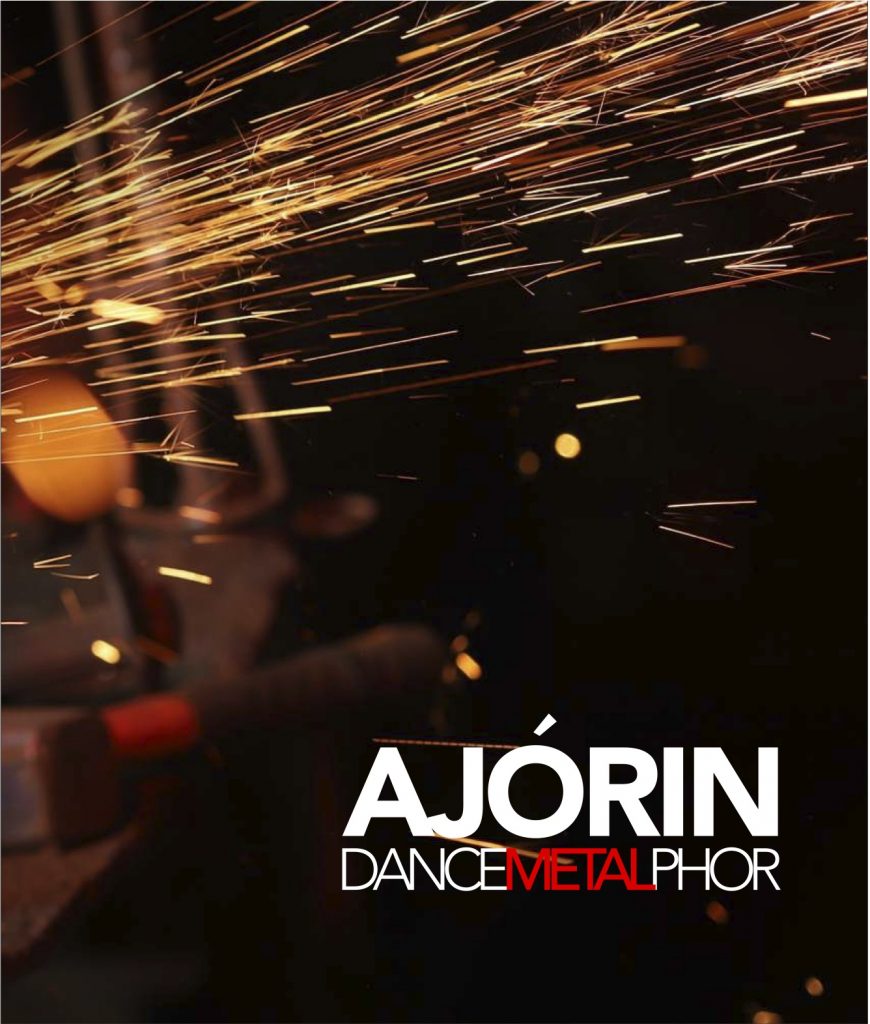 Oct-Nov 2020.  When Signature Beyond Gallery, Lagos had its sixth Sogal Art Auction, Translucent S.I. again was the media manager of the 2020 edition.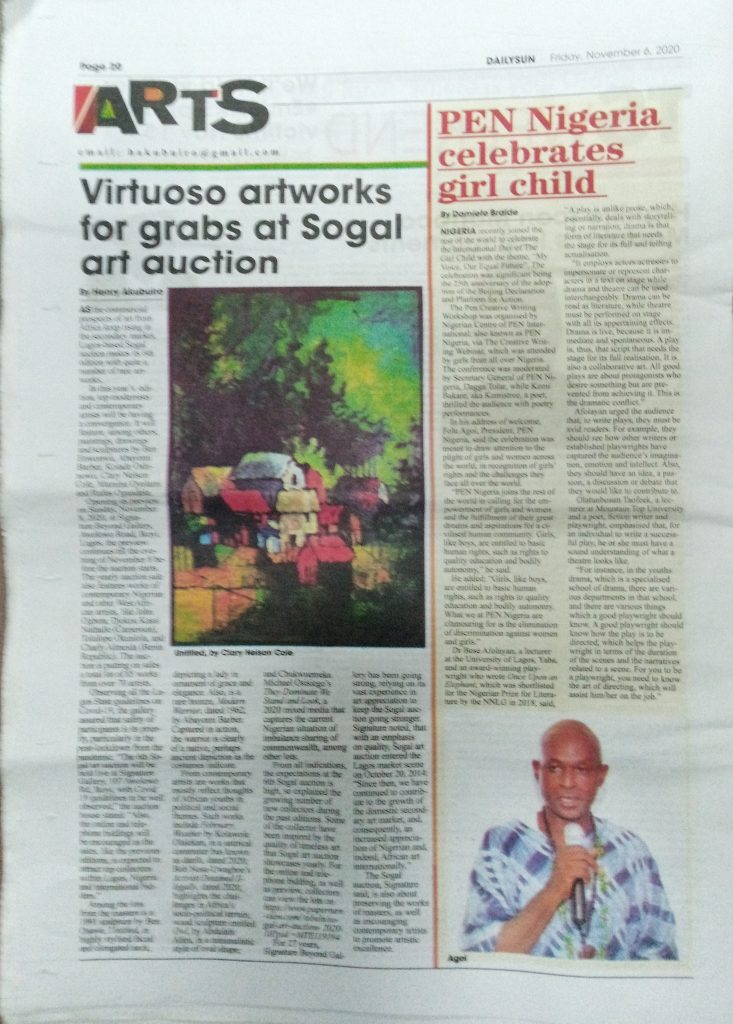 Virtuoso artworks for grab at Sogal auction
Enwonwu, Barber, Oshinowo for 6th Sogal art auction
Sept-Dec-2019.  Mr Tajudeen Sowole of Translucent S.I. handled the copyediting  of newly published novel titled 'The Eternal Substitute'.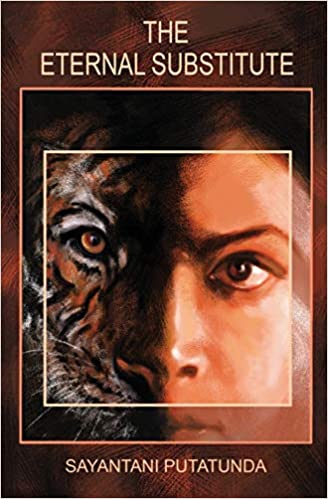 Story of three women under prosecution for being rebellious against the norms of the society… READ MORE
May 2020.  Veteran film producer/director, Matthew Simpa's publicities under Translucent S. I.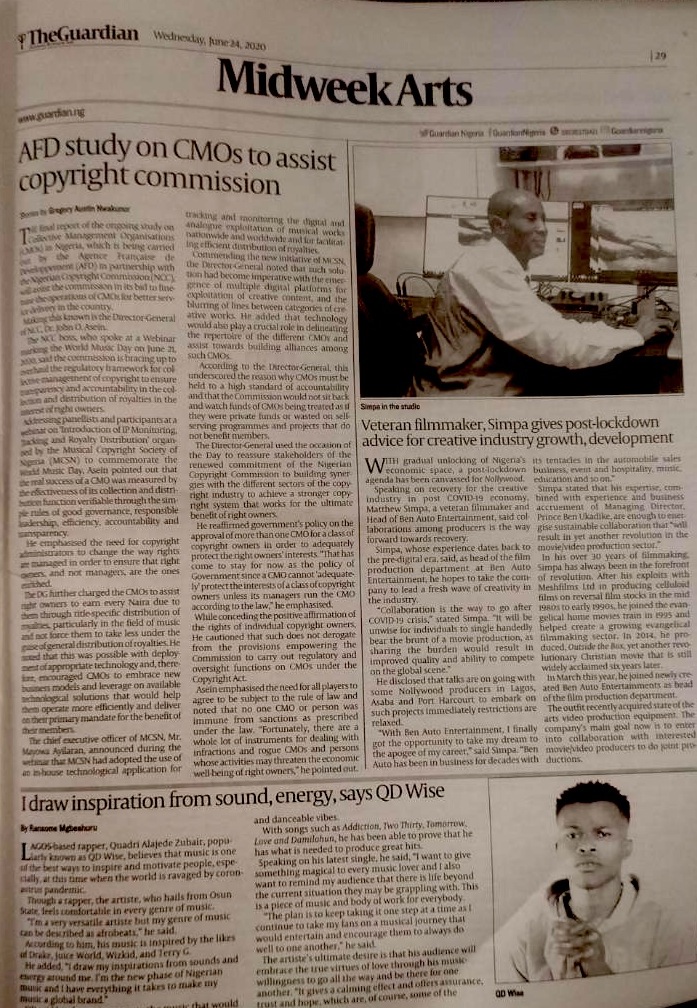 Nollywood will recover after lockdown- Simpa
Post-lockdown advice for Nollywood from veteran filmmaker, Simpa
Mathew Simpa: Collaboration will help Nollywood recover after lockdown
 Collaboration will help Nollywood recover from covid-19
Post-lockdown advisory for creative industry
February-March 2020. Thought Pyramid Arts Centre's postponed show titled 'Next of Kin'. Publicity management done by Translucent S.I., from February- March 2020.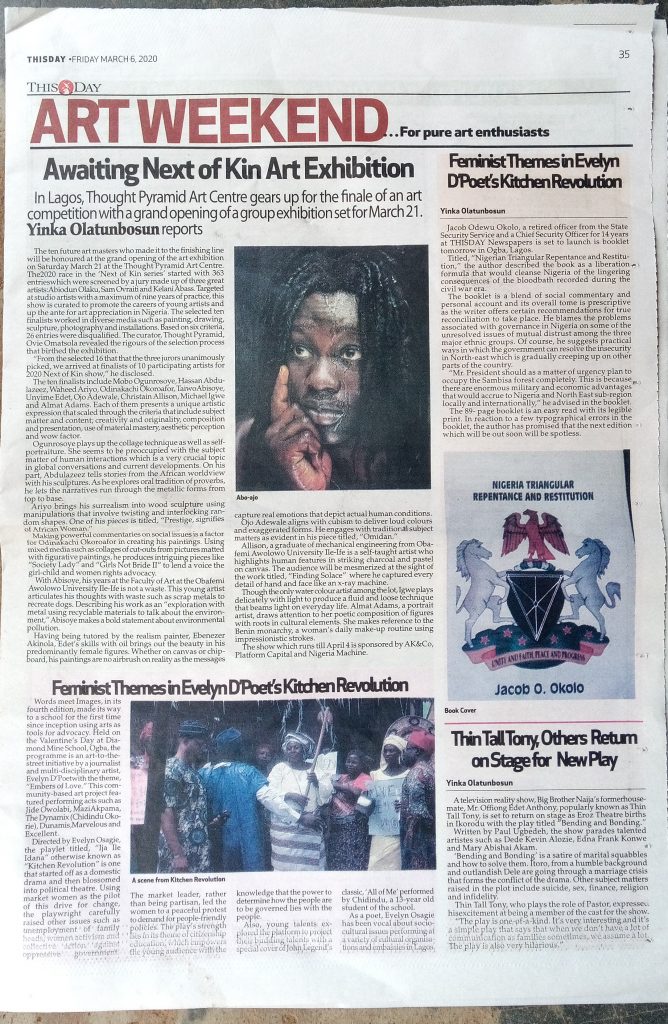 Awaiting Next of Kin show at Thought Pyramid
In Next of Kin, no space for anything is art
Thought Pyramid hosts Next of Kin
Next of Kin grand finale sets Thought Pyramid aglow
Emerging artists set to dazzle in Next of Kin
Next of Kin 2020 says 'no space for anything is art'
Media management of Steve Ekpenisi's 'Diary of the Iron Bender- show (February 2020).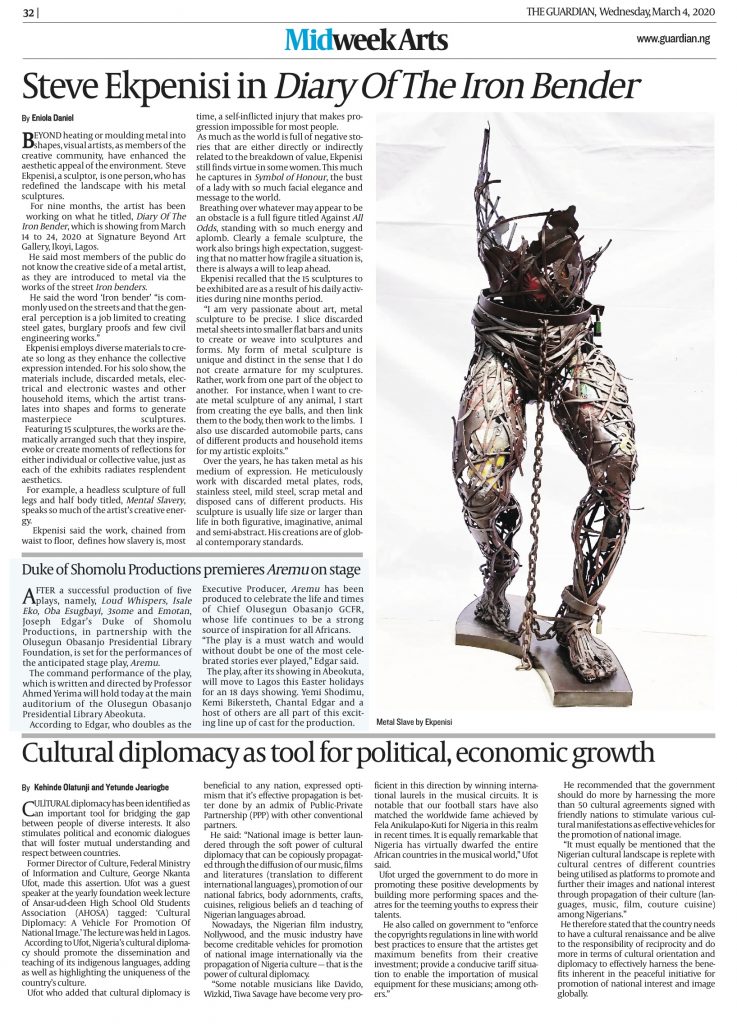 Steve Ekpenisi's Diary of the Iron Bender
Ekpenisi's Diary of the Iron Bender opens at Signature
Ekpenisi shows Diary of the Iron Bender
From socio-cultural value, Ekpenisi moulds Diary of the Iron Bender
Nov-Dec 2019. Last December, Segun Aiyesan's solo art exhibition titled Dymentiona was on the list of art events under Translucent S.I.'s media management.
 Chinedu Ogakwu's Illimite-II art exhibition got media promotion management of Trasnlucent S.I. in November/December 2019.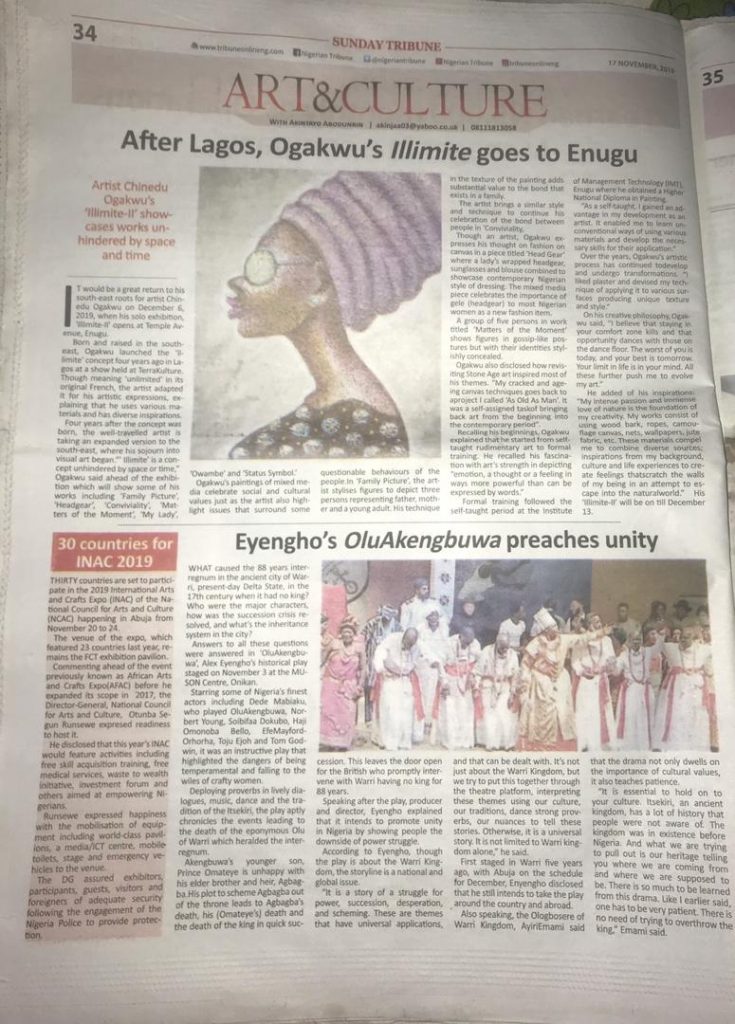 After Lagos, Ogakwu's Illimite Goes to Enugu
Ogakwu goes to Enugu with Illimite-II
Escaping from time, space to Ogakwu's Illimite-II in Enugu
In Enugu, Ogakwu's Illimite-II unchains creativity from time, space
Oct 2019. Preview/review of 'Raw Cooked' Artists through the lens of Nigerian press, managed by Translucent S.I. Communication.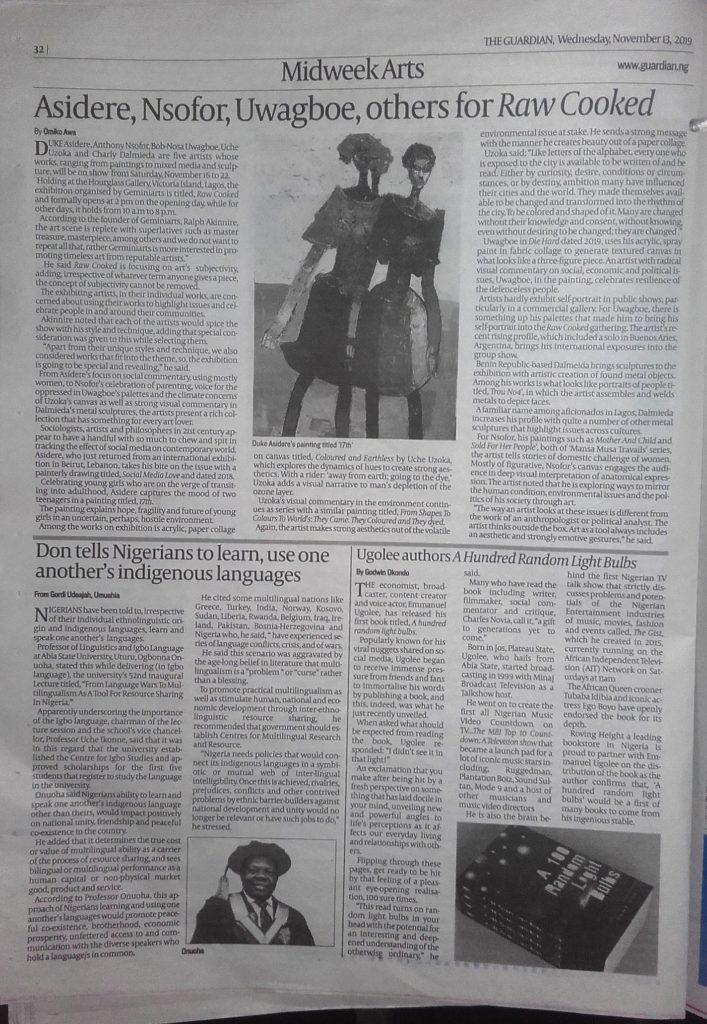 Geminiarts' Raw Cooked expo unveils five artists
 Asidere, Nsofor, Uwagboe, others for Raw Cooked
Artists tackle social, environmental issues with Raw Cooked
Raw Cooked of Asidere, Nsofor, Uwagboe, Uzoka and Dalmieda
Translucent S.I. linked the general public with the CSR works of Rotary Lekki Golden during and after their community development projects in Lagos, in October 2019.
Young Rotary clubs berth in four public schools
Rotary Club inducts pupils as interactors to boost community development
When six Nigerian artists exhibited in Beirut, Lebanon,Translucent S.I. was their publicist.

Nigerian Artists Thrill Aficionados in Beirut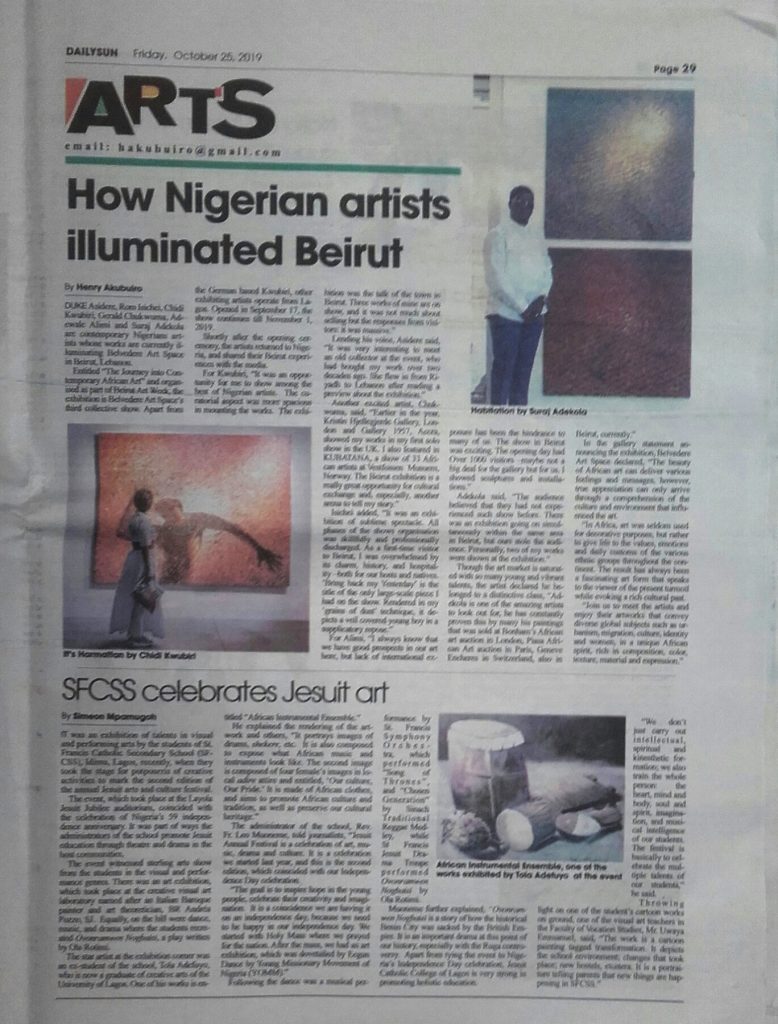 How Nigerian artists illuminated Beirut
Six Nigerian artists on Beirut Journey into Contemporary African art
Beirut 'Journey into contemporary African art' for Nigerian artists
Nigerian artists Brightens Beirut with contemporary African art
Translucent S.I. is currently the media manager for 'Art Connect', a new exhibition series at Four Points by Sheraton, Victoria Island, Lagos.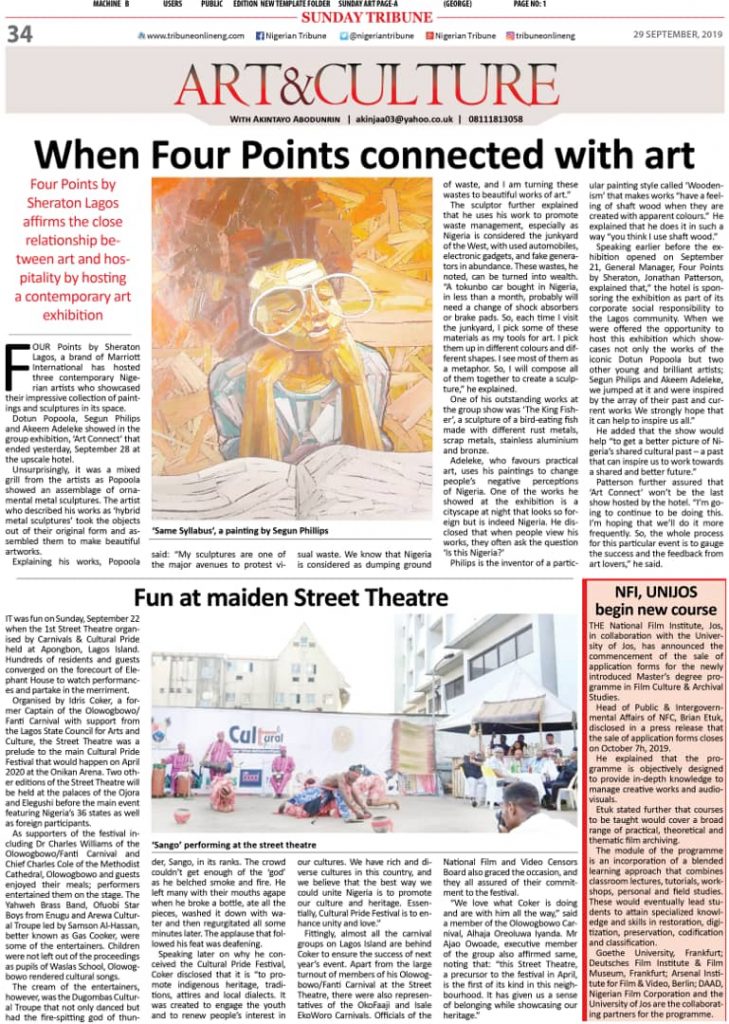 The Guardian Nigeria News – Nigeria
In new show, Art Connect hospitality
Tribune Online
When Four Points Connected with art
The Nation Newspaper
Art Connect at Four Points hotel
The Sun Nigeria
Pomps as Art Connect berths at Four Points/
The Nation Newspaper
Sheraton hosts three Nigerian artist
Translucent S.I. handled the media management work for Sogal Art Auction. Here are the list of some publications from Monday, April 22 – Sunday, May 5, 2019: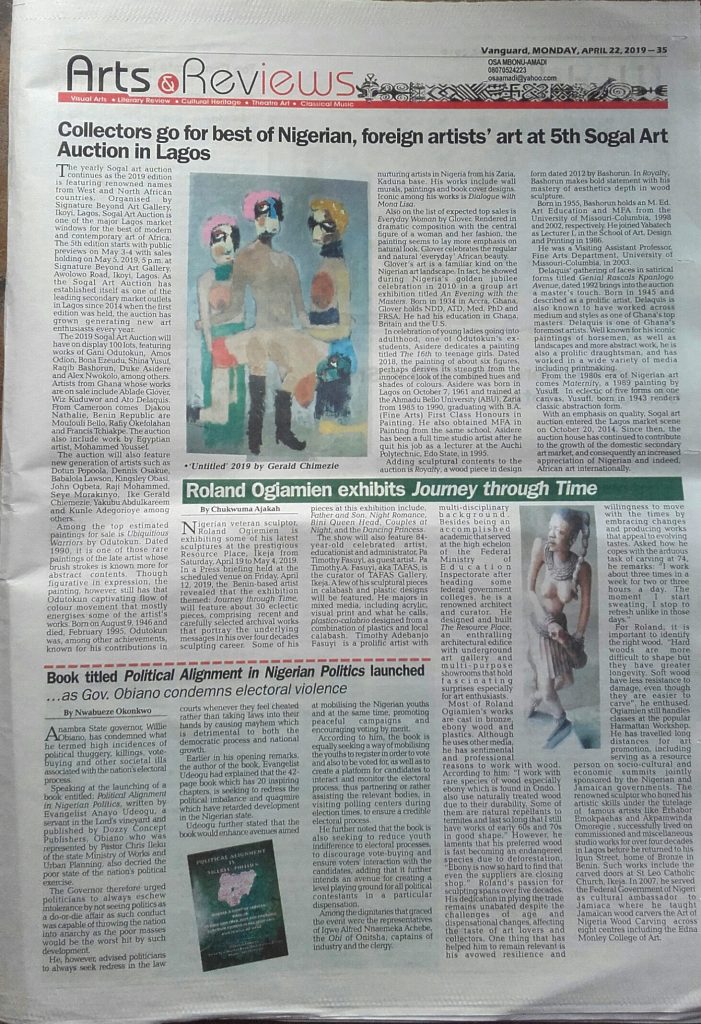 New Telegraph: Sogal Auction: collectors go for best of artworks.
THISDAY LIVE: Sogal Art Auction Hits Lagos. 
The Nation Newspaper Sogal Art Auction Opens in Lagos.
African Arts with Taj.  For 5th Sogal Art Auction, Odutokun, Glover on collectors' favourite list.
Painting and mixed media exhibition titled Obituary by artist, Bob-Nosa Uwagboe at Signature Beyond Gallery, Ikoyi, Lagos (November 2018).
The exhibition's media management was handled by Translucent S.I. Communication.
Press (digital) clips of Obituary:
-The return of Bob-Nosa Uwagboe with Obituary for second solo exhibition.
-After Homme Libre, Uwagboe returns wuth Obituary.
  – Bob-Nosa Uwagboe's Obituary and the sobering realies of the times.
– Uwagboe returns with obituary
– Tracking art of Uwagboe from Homme Libre to Obituary.
Photography exhibition titled Urban Culture – Historical Continuity by Bolaji Alonge at One Draw Gallery, Ikoyi, Lagos (November 2018)
Some select publications on Urban Culture – Historical Continuity:
   Telling Stories Through Photography.
   Documenting Urban Culture through Alonge's travelogue=lens. 
 Kehinde Sanwo's Lines and Legacy art exhibition of drawings at One Draw Gallery, Ikoyi, Lagos, (October 2018).
Translucent S.I. was the media manager of Lines and Legacy for One Draw Gallery.
Some of the Prints and online publications for Lines and Legacy:

Sanwo's Line and Legacy  to preserve heritage.
With Lines and Legacy, Sanwo seeks to preserve Lagos Heritage
Monument artist, Sanwo goes drawing with Lines and Legacy.
The Content art exhibition series.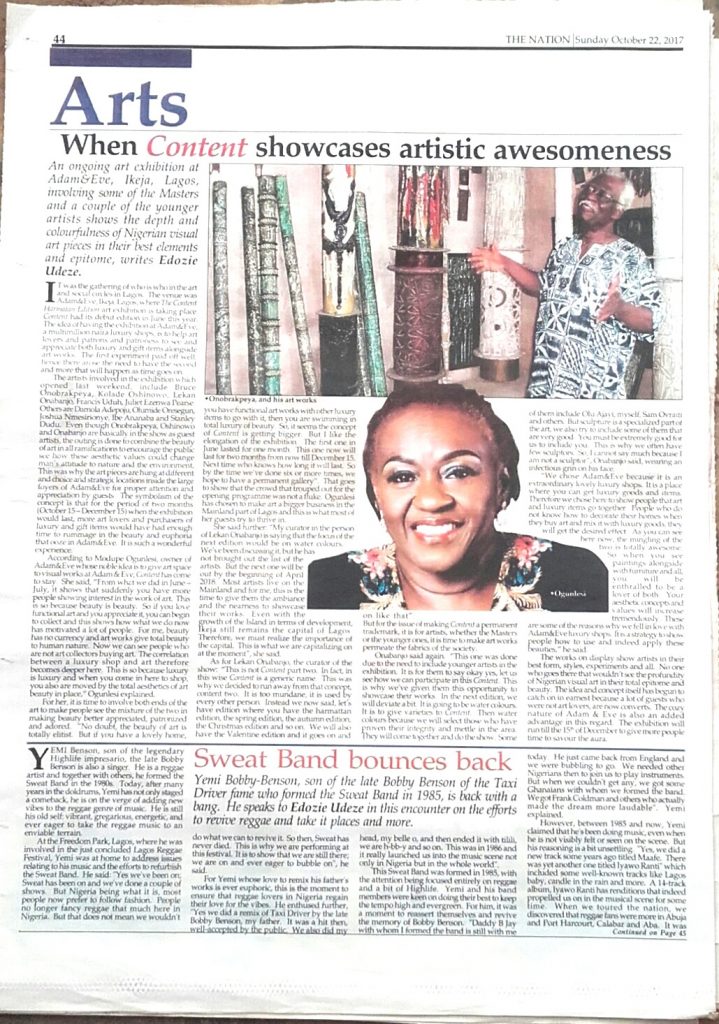 Translucent S.I. is the Media Manager and Art critique texts writer of the art exhibition series titled The Content (2017 ).
Select publications on The Content art exhibitions (2017 – 2018):
Adam&Eve set to host Watercolour exhibition. 
Water colourists stage come back at Adam&Eve's Spring Exhibition.  
Adam&Eve presents its second art exhibition. 
The Content and masters at Adam&Eve. 
Onobrakpeya, 8 others showcase artworks at Adam&Eve. 
A marriage of watercolour masters, luxury and royalty at The Content. 
The maiden edition of The Content, which was held from June – July, 2017, at Adam&Eve, GRA, Ikeja featured paintings and mixed media by Africa's topmost printmaker and modernist, Dr Bruce Onobrakpey; and prolific painter, Kolade Oshinowo, among other big artists. Organised by Nigeria's leading design and luxury items shop, Adam&Eve, the exhibition also featured artworks by the curator, Lekan Onabanjo, Tola Wewe, Raqib Bashorun, Duke Asidere, Alex Nwokolo, Fidelis Odogwu and Zinno Orara.
From October 15 – December 15, 2017, the exhibition continued with The Content – Harmattan Edition.
 Translucent S.I was the Media Relation Management agency for BHS, (2008 – 2012).
BHS is a Lagos-based infrastructure development and facility management firm, based in Nigeria.
 Translucent S. I is the Media Relation Management agency and Event Consultant to the Guild of Professional Fine Artists of Nigeria (GFA).